Part of EDUC 4250 – a PIDP module at Vancouver Community College
Introduction
My name is Frithjof Petscheleit, and I am a guest on the stolen and unceded land of the Syilx Okanagan Nation. Indigenous people have been stewards of this land for time immemorial and I am committed to learning as much as I can about the culture we replaced, and the way skills were passed on from one generation to the other.
I am one of the instructors of the Women in Trades programs at Okanagan College, mostly on the Kelowna campus. We teach the theory part of our classes online and I have also taught classes in a hybrid setting where students choose if they want to be in the classroom or online. Something Dr. Tony Bates calls "HyFlex"
Growth Industry
According to Research Gate, the Global online learning market has grown by 900% since the early 2000s.
Most of us can probably remember when a lot of classes went online during the pandemic. That's when the graph starts trending upwards at a much faster rate.
We have witnessed the advantages of online learning. But many of us have also seen some of the drawbacks of online learning either from our own experience or when we witnessed it in our students.
Pros & Cons
Let's explore some of the advantages and disadvantages of online learning. Some of these points are from my research and others are from my own experience as an instructor.
Online courses are an efficient way to learn. They are convenient and in many cases offer more flexibility to learners than an in-person class can.
But learning online also requires a larger amount of self-discipline, especially during asynchronous courses where you have to schedule yourself and resist procrastinating. The online setting can also make it more difficult for students to give feedback to the instructor.
Online courses are a cost-effective way to offer educational materials.
Online classes enjoy increased attendance numbers. I observed that during a course I taught to a hybrid class soon after the pandemic shut down. Because we offered our students the choice to attend in person or online, everyone was able to attend even when they were not feeling well, or if their childcare was unavailable.
Relying on your computer to go to class has challenges though. Often students try to take part on their phones and that is usually less than ideal. Online classes do require students to be internet savvy enough to log on to a class and navigate an online learning platform. What turns out to be a bigger hurdle is access to broadband internet though. A surprising number of students lose internet access because of affordability issues. This is a political issue in my opinion.
At the beginning of our twelve-week program, I now point out the potential of this economic threat and invite my students to approach me to solve this problem with them.
Teaching online classes during and after the pandemic has shown to be advantageous to some students and problematic for others. In our apprenticeship classes, the more mature students thrived, and a lot of the younger ones struggled.
Making online courses available increases the opportunities for many students who otherwise would have to commute long distances or relocate to take in-person classes.
If we foster interaction in online classes and provide the tools to collaborate and exchange ideas, students can interact more freely in the way they prefer.
Taking classes online can also cause a bigger sense of isolation and some students don't do well with the increased screen time. We need to be aware of this problem when we design our courses. It is helpful to provide "offline" ways to study and complete assignments.
Asynchronous courses like the one we are taking provide the opportunity to access lessons on our schedule. I provide a recording of all my online classes to my students. That way, absent students can watch the recording and those who are unclear on part of the lesson can re-watch the part that caused problems.
The lack of face-to-face contact can be an issue for some. Knowing this we should encourage our students to turn on their cameras for part of the time or organize in-person opportunities to meet. Our students frequently organize their own chat groups to replicate "hanging out" between classes.
The fact that so many institutions and groups offered and continue to offer their material and courses online during the pandemic makes education truly global. We can take courses in any language, on many topics and levels that are offered anywhere in the world.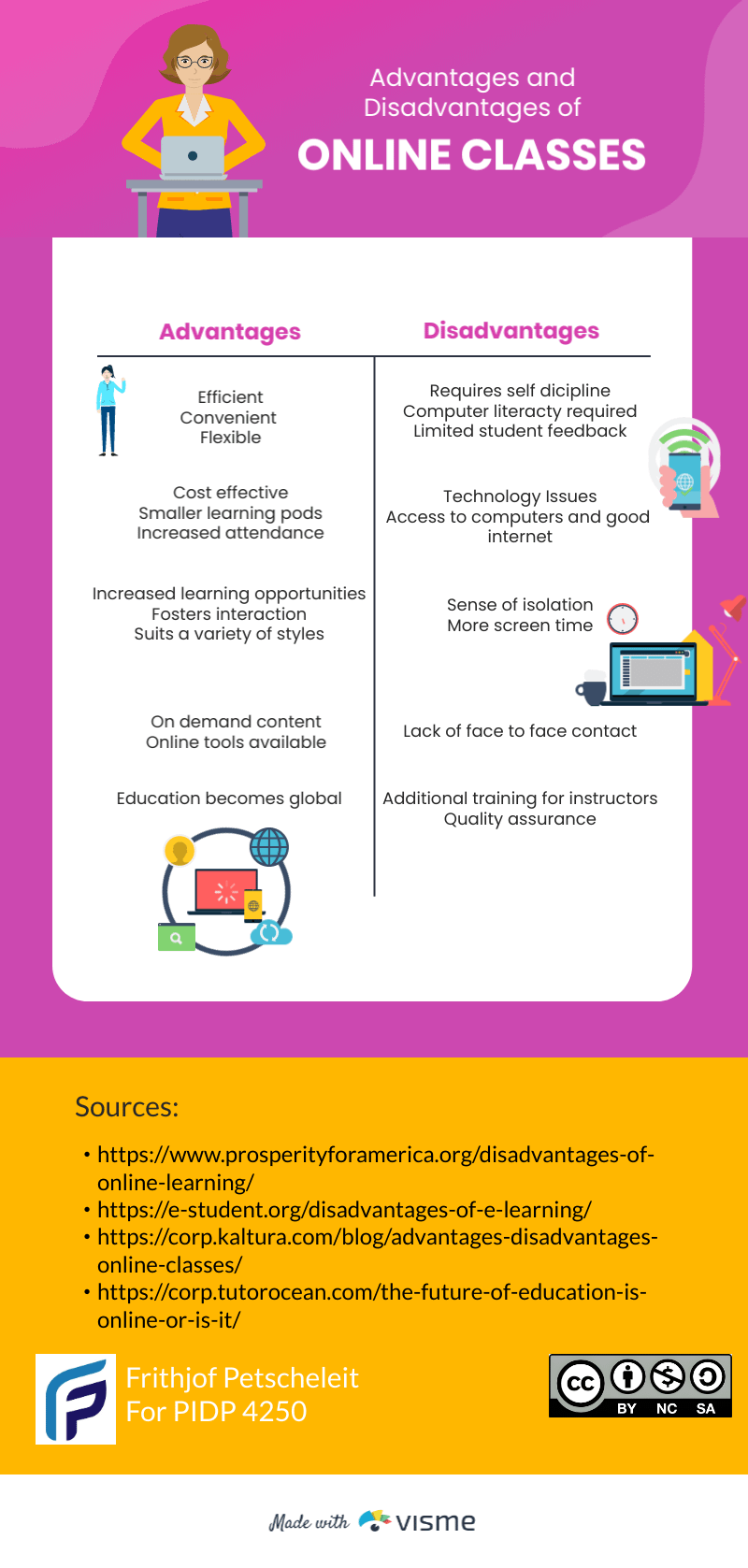 About the Author
Latest Posts
I am an uninvited guest on the unceeded (stolen) land of the Syilx Okanagan people.
Since I no longer have to worry about reach, clicks and SEO, I can just share what I want. I am passionate about adult education, sourdough and improving my art. But I am known to write about anything I feel like 🙂