My name is Frithjof Petscheleit. My name is officially a German name, however, it is more common in Norway. For help pronouncing my name think of "Turn the fridge off" [fridge-off]. If you say it quickly, it usually comes out right.
Early Years
Even to this day, many Germans spend their life close to where they were born. My early years set the tone for a different pattern; we moved a lot.
In 1964 I was born in southern Germany but spent my school years in North Western Germany. I marked the places on this map and invite you to dig into more details. Drop me a line if you would like to know more!
I am the oldest of five siblings and my brothers and sisters still live in Germany.
I grew up in Cold War Germany. We had regular NATO combat exercises in our streets, fighter jets overhead and the border to the east was still a highly fortified wall.
Pipe-organ Building years
Apprenticeship
In 1982, right after high school, I began my apprenticeship at Gustav Steinmann Orgelbau in Vlotho, Germany. At the same time I learned how to live on my own and travelled through North-Western Germany working on different pipe-organ projects. During these three and a half years I spent time in a special trades school in Ludwigsburg, Germany. I became a journeyman pipe-organ builder (Red Seal) in 1986.
This time also saw the beginning of my political activism. I joined the German Green Party and took part in rallies for peace, against the building of nuclear power plants and against the placement of long-range missiles with nuclear warheads.
Civil Service
At the time, males in Germany had to serve 15 months in the military. I received permission to opt for civil service replacement instead. I spent my term serving in a large nursing home.
Journeyman Years
I went back to work for Steinman Orgelbau working as a journeyman for another three and a half years. Most of this time was spent on installations, working long hours and travelling most weeks. I also formed an interest in training volunteers and apprentices as well as becoming a master of my craft at some point.
First Immigration to Canada
At the end of 1989, I packed up my belongings and moved to Canada. I became the only (trained) employed pipe-organ builder in Western Canada, working for Koppejan Pipe-organs in Chilliwack, BC, Canada. We mainly built and maintained instruments in the Edmonton area and the lower mainland of BC.
During this time a plan developed to take over the company I worked for. I realized however, that I needed more training in order to build instruments that met the demands of the customers of the time. The only way to get this training seemed to be to sign up to the Master of Pipe-organ building program in Germany.
My daughter Amelia was born 6 weeks before we went back to Germany
Master School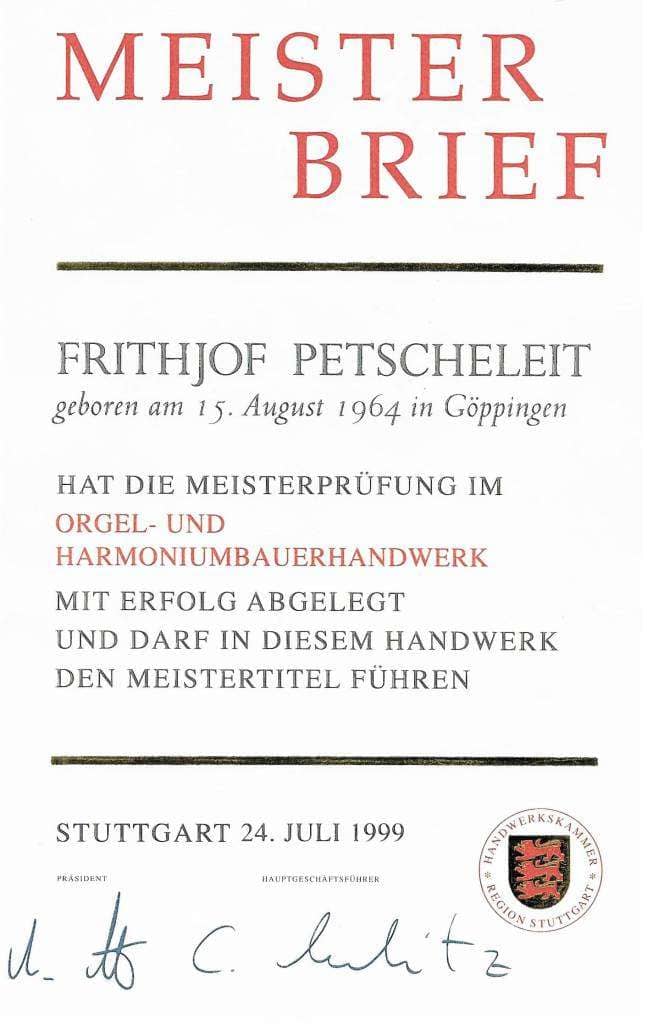 The master program at the Fachschule fur Musikinstrumentenbau in Ludwigsburg is a one-year, intensive program teaching everything one needs to run a trades firm in Germany. In fact, most trades require you to have at least one certified master to be allowed to operate a company.
I completed all the required exams and became a Master Pipe-organ builder in 1999.
Building Pipe Organs
From 1996 to 2000 I worked for Mats & Luge Pipe-organ builders close to Baden-Baden, Germany. I led teams, trained apprentices and worked on several very interesting instruments. This included new builds and restoration of historic instruments.
Relocation Services
In the year 2000 I left my career behind and began working for a small Relocation company. I was able to use my bilingualism and experience as an immigrant to help employees of international companies move to Germany with their families.
Three years later I was hired to build a Relocation Services department for an international moving company in Frankfurt, Germany. I enjoyed working with my team in Frankfurt as well as with my colleagues in five European countries. I built procedures, contacts and everything else from scratch and enjoyed building a team to deliver services locally as well as an international network of providers to settle clients all over the world.
Educational Testing Service
In 2005 I began working for ETS Europe. I was responsible for supporting language schools in using ETS's TOEIC English language testing tool in all of south-western Germany. This included teaching training and certification seminars. Since most of the instructors I trained were native English speakers, these seminars were often held in both German and English.
Second Immigration to Canada
Inventory Management
In 2007 I moved to Kelowna, BC, Canada to be closer to my daughter.
I began working for an international beverage company. As part of the US production planning team it was my role to manage material inventories over three co-pack production facilities and two additional warehouses.
During this time I took courses in production planning and inventory management in particular.
BlueBird Business Consulting
In 2010 I took my interest and experience in Social Media Management and became a digital media consulting. I helped small business owners to communicate with their customers using social media tools. I built websites and created social media pages for them. In some cases, I managed their social media channels. I taught courses online and in person.

Okanagan College
In 2018 I joined Okanagan College and am currently working as a tool room attendant on the Kelowna Campus.
I am also a substitute instructor for the Women in Trades and Technology department and get to introduce women to different trades and help them get started on their chosen career path.
Throughout my varied careers, I have always enjoyed teaching and coaching others and help them succeed. I have started on the path to formalize my training and am currently enrolled in the Provincial Instructor Training Program at VCC. In the "Teaching" section of my blog you can find out more about what I learned.
---
Arrived
Thank you for reading all about my journey to become the person I am today. Naturally, there are a lot more twists and turns on this road to get here.
Today, I live happily in Kelowna with my wonderful partner Michele, our dog and two cats. All the kids have moved out and we enjoy them and our grandson coming for visits.
During the COVID19 pandemic in 2019 I started baking sourdough bread. I got so much into it that I dedicated a category of this blog to it. Find out more in "Baking".
If you want to know even more about me, I suggest checking the blog under "Musings"
---
[shareaholic app="follow_buttons" id="28689073″]
---