On my list of things I want to do before I turn 60 #60b460 is "Take part in Inktober". To me, that means drawing to the Inktober prompts every day.
My aim is to hone my drawing skills and I find that having prompts helps me push myself to draw things I would have not dared to do otherwise.
I had a lot of fun with the interpretation of the prompts and then drawing them all! Follow me on Instagram to see more of my beginner art.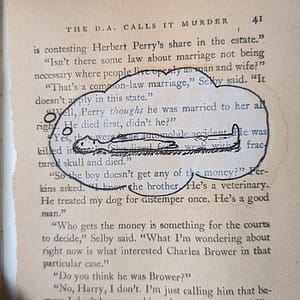 Dream
"Dream" is the first prompt for #inktober2023.
Inspired by @waynewilsonart, I've been waiting to draw something on recycled paper and the person dreaming a story seemed to fit well.
Spiders
Day 2
"Somehow the killing of the giant spider, all alone without the help of the wizard or the dwarves or anyone else, made a great difference to M. Baggins.
~ J.R.R. Tolkien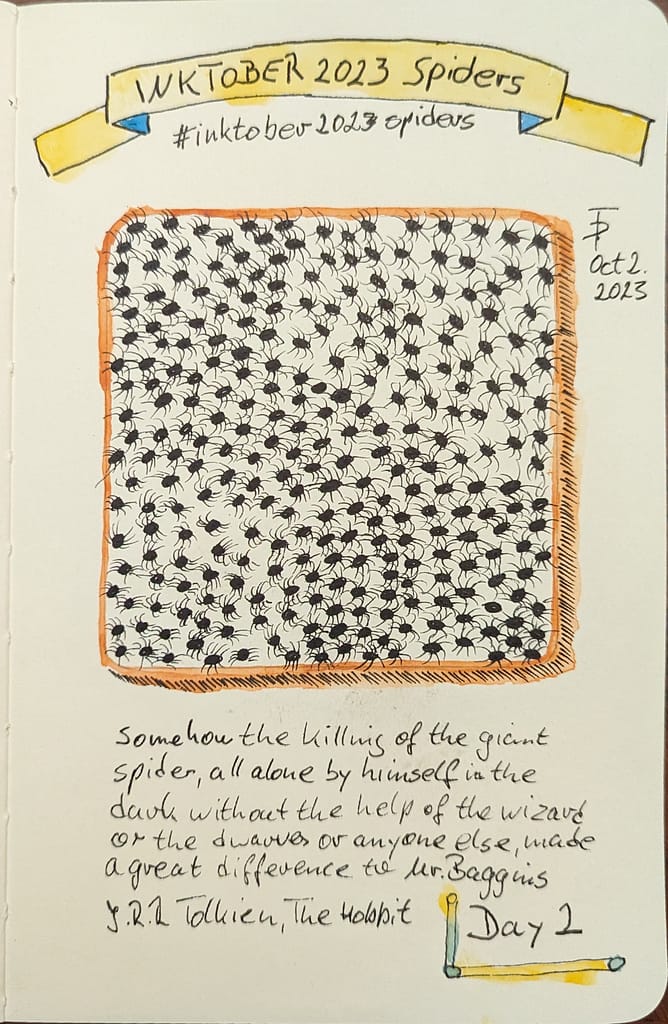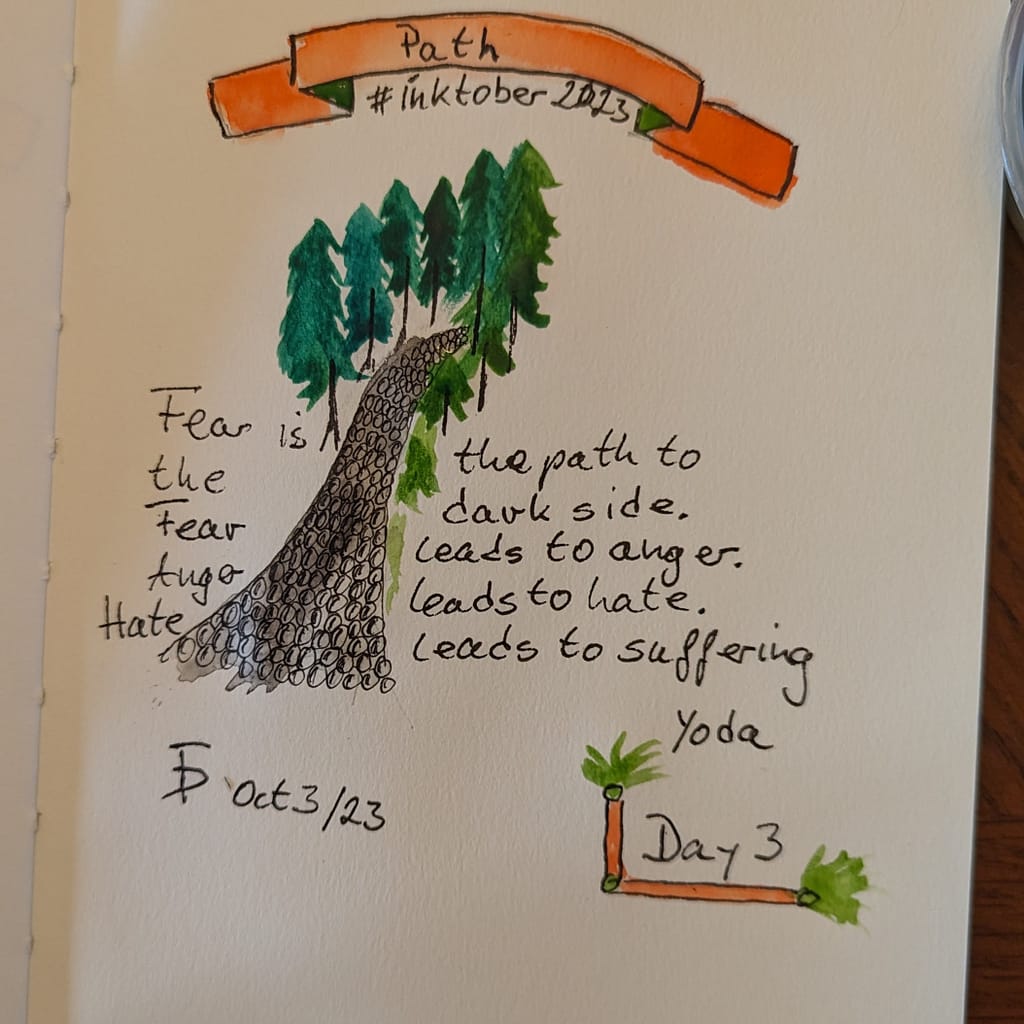 Path
Day 3
"Fear is the path to the dark side.
Fear leads to anger,
Anger leads to hate
Hate leads to suffering
~Yoda
Dodge
Day 4
"The human race is always trying this dodge of making everything easy, but the difficulty which it shifts off one thing it shifts to another."
~Gilbert K. Chesterton
---
This is one of these things I would have never done without a prompt. Trucks are not particularly interesting to me.
I took a picture as a template and tried my interpretation of it. As you can see, I struggle with the perspective.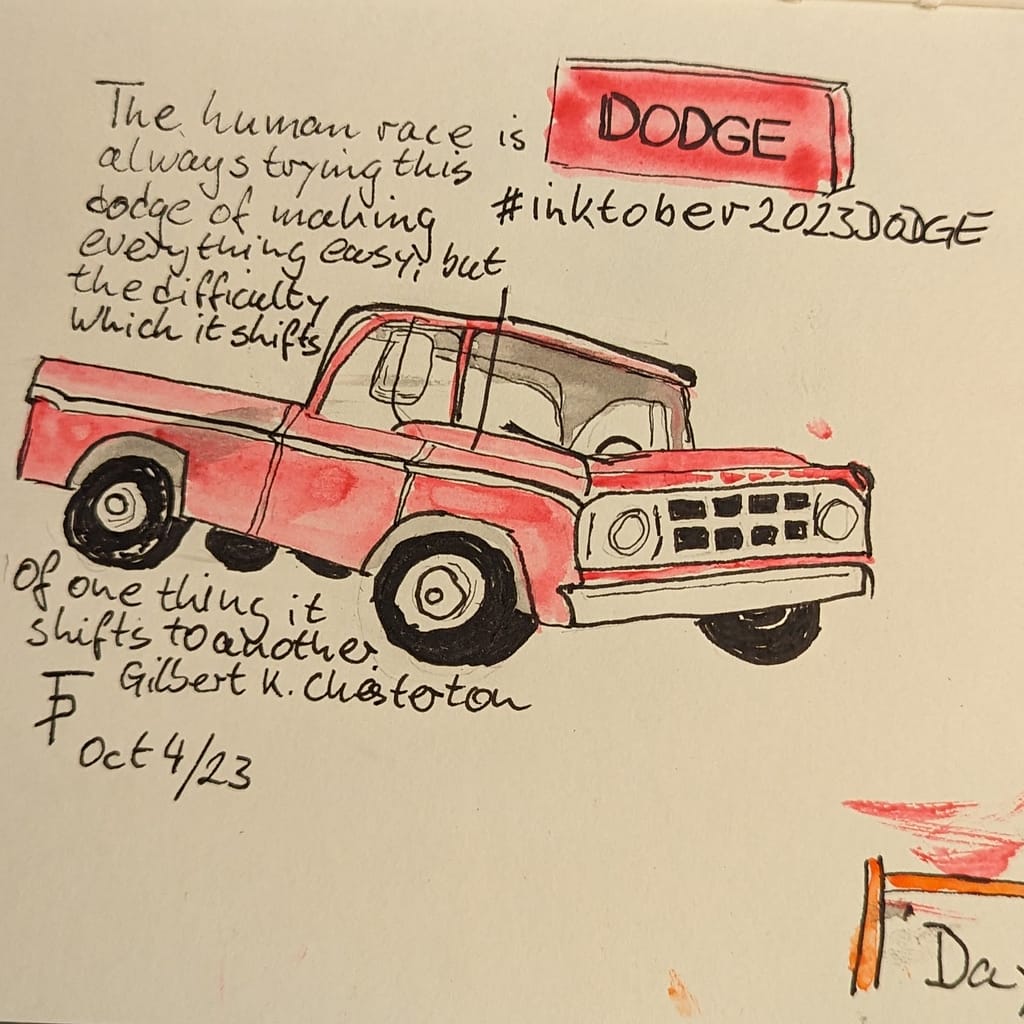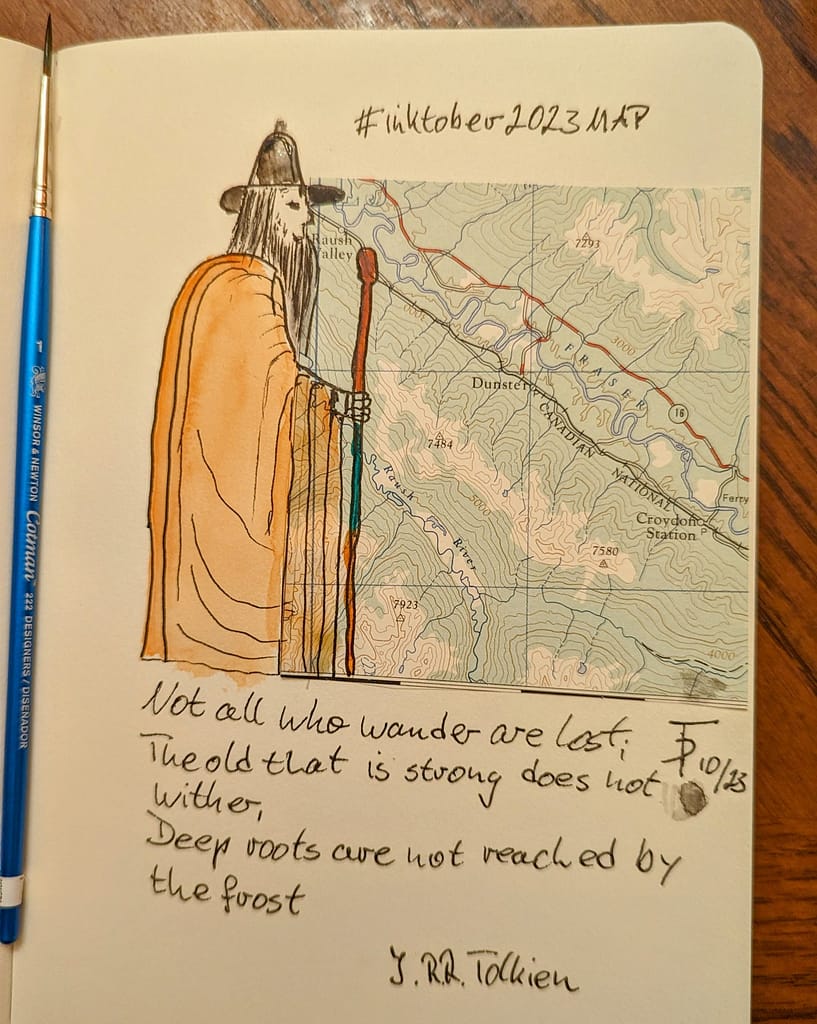 Map
Day 5
"Not all who wander are lost;
The old that is strong does not wither,
Deep roots are not reached by the frost."
~ J.R.R. Tolkien
---
I admire Wayne Wilson's art drawn on old maps. This is my homage to that style and I look forward to doing more drawing on various papers.
Golden
On our way to Vancouver, we had some car trouble and had to wait in Merrit for a few hours. It was a good opportunity to draw a picture of the golden fall leaves.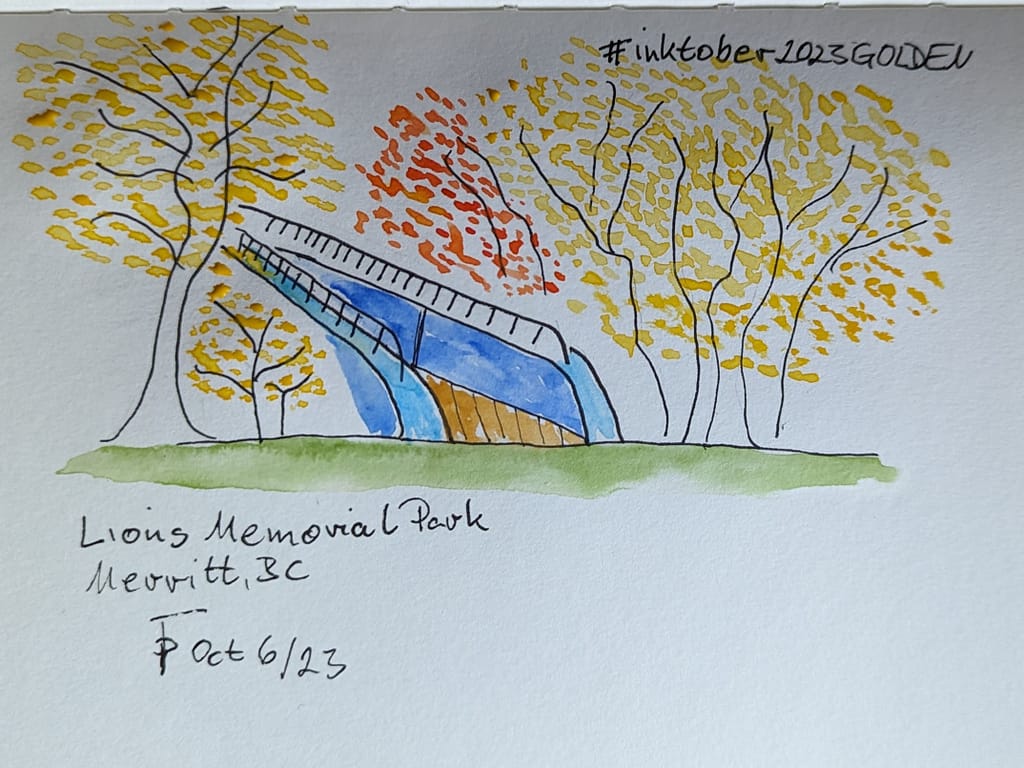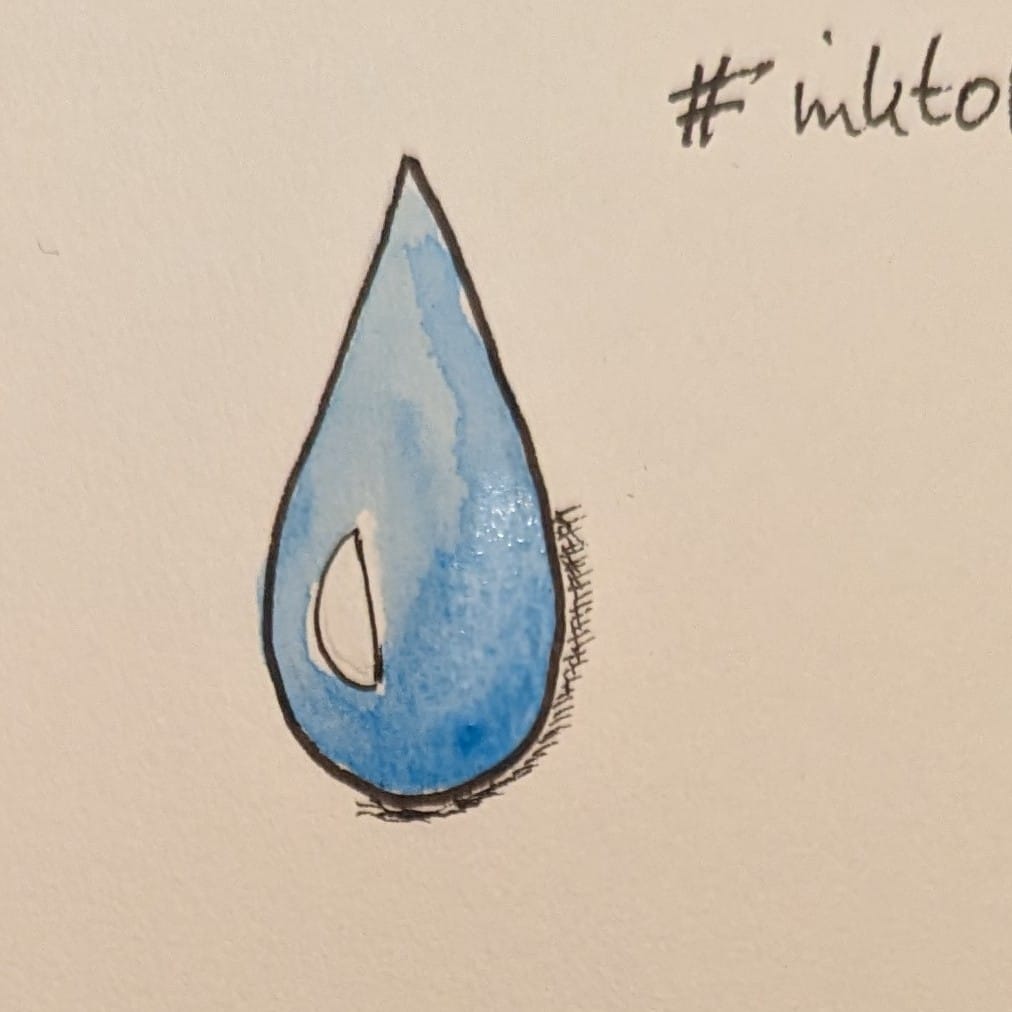 Drip
Toad
I didn't have as much time during our visit to Vancouver, so I combined "Drip" with "Toad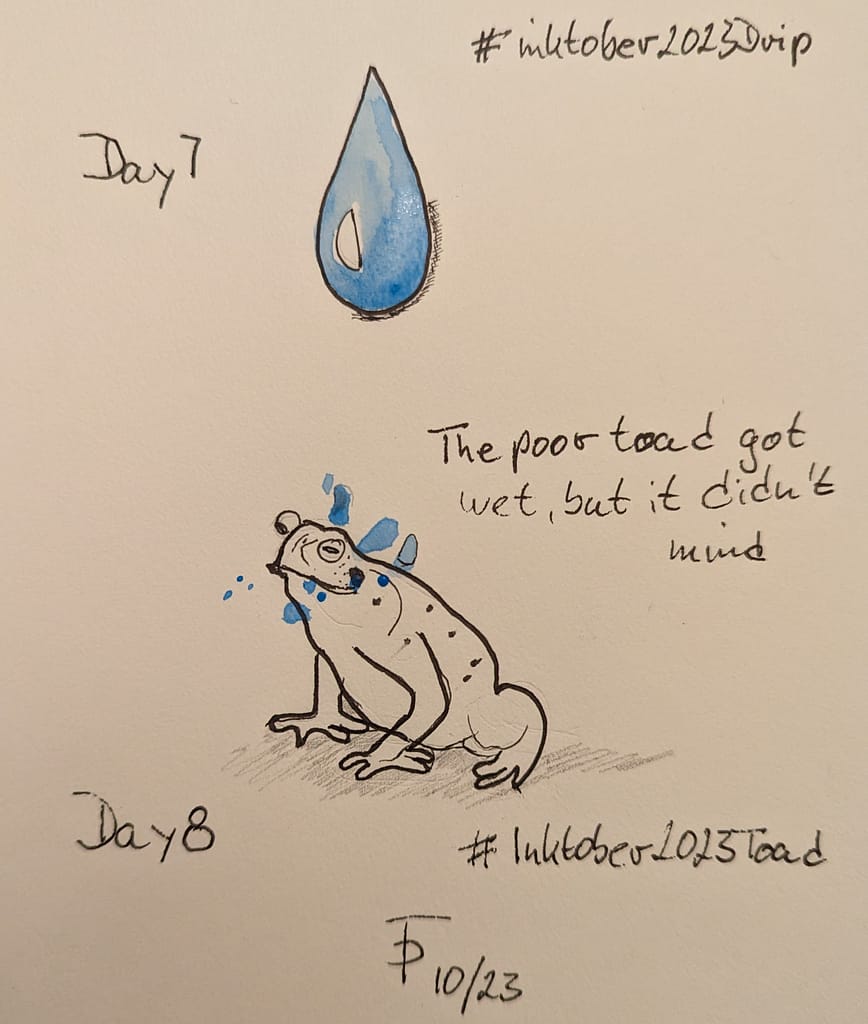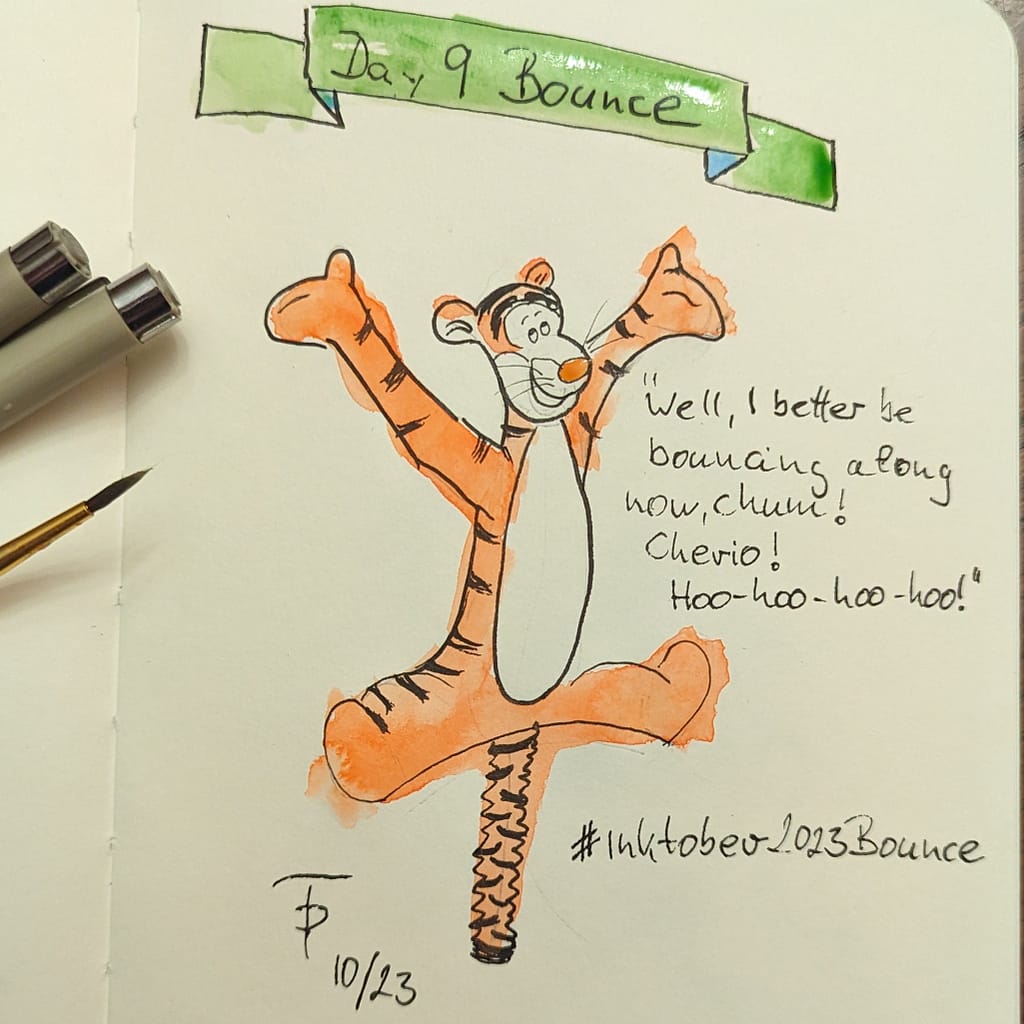 Bounce
Tigger was a lot of fun to draw. There are great step-by-step instructions on the interwebs.
Fortune
Day 10
"His rage passes description – the sort of rage that is only seen when rich folk that have more than they can enjoy suddenly lose something that they have long had but have never before used or wanted."
― J.R.R. Tolkien, The Hobbit
---
I remembered Smaug, the dragon in The Hobbit that guarded a fortune and was corrupted by it. Lots of parallels to today's Billionaires :-).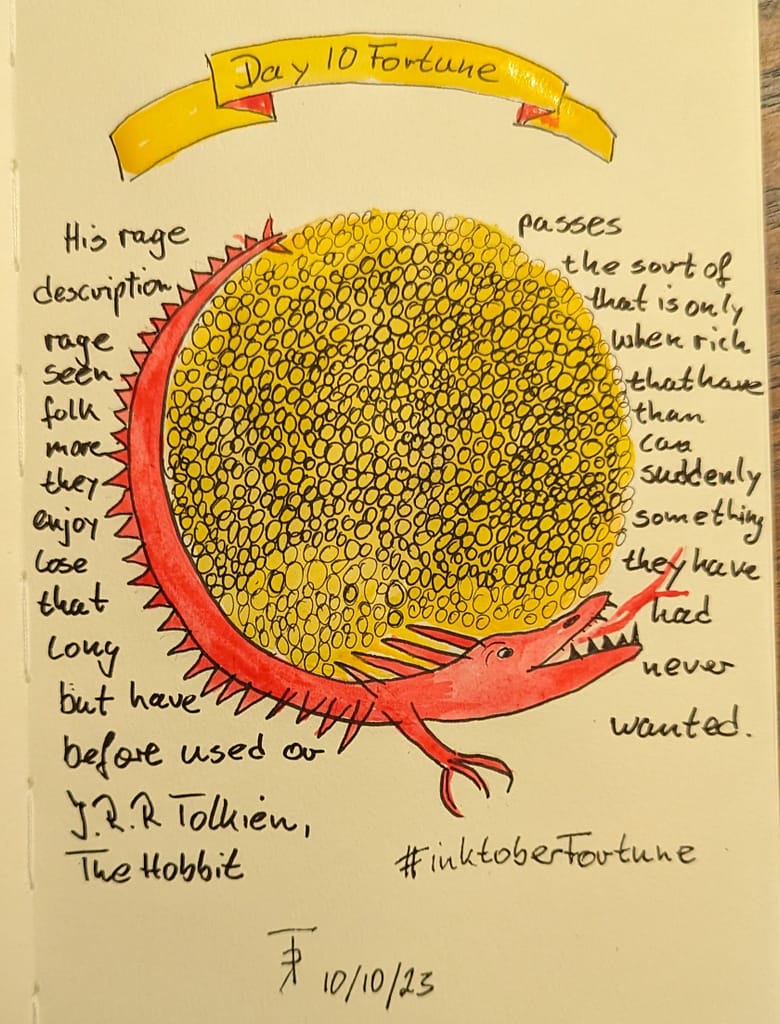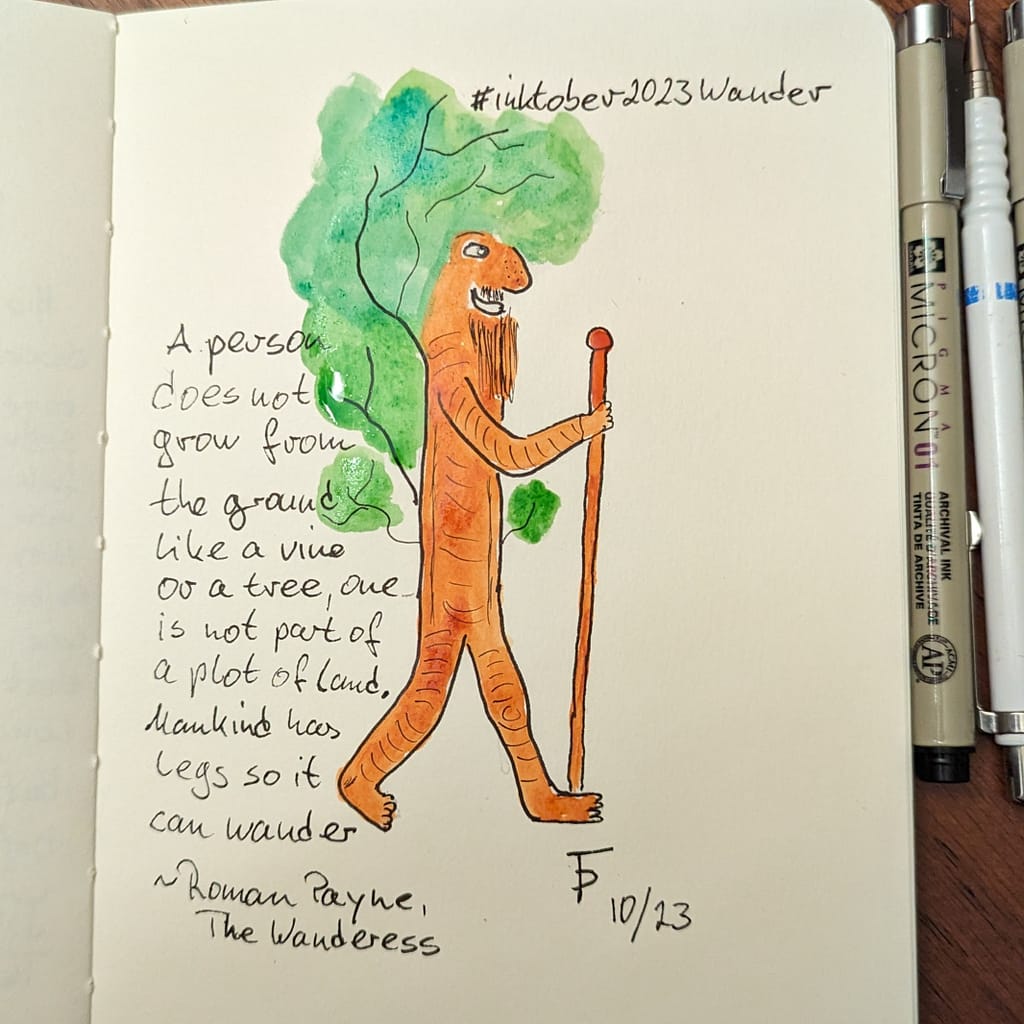 Wander
Day 11
"A person does not grow from the ground like a vine or a tree, one is not part of a plot of land. Mankind has legs so it can wander."
~ Roman Payne, The Wanderess
---
Since I already used the quote "Not all those who wander are lost" I searched and found this quote. I put the book on my "want to read" list 🙂
Spicy
I wanted to avoid drawing chilli peppers like most inktober people 🙂 So I thought of the spicy lettuce that grows in our garden in the spring. Mostly Arugula and Mustard.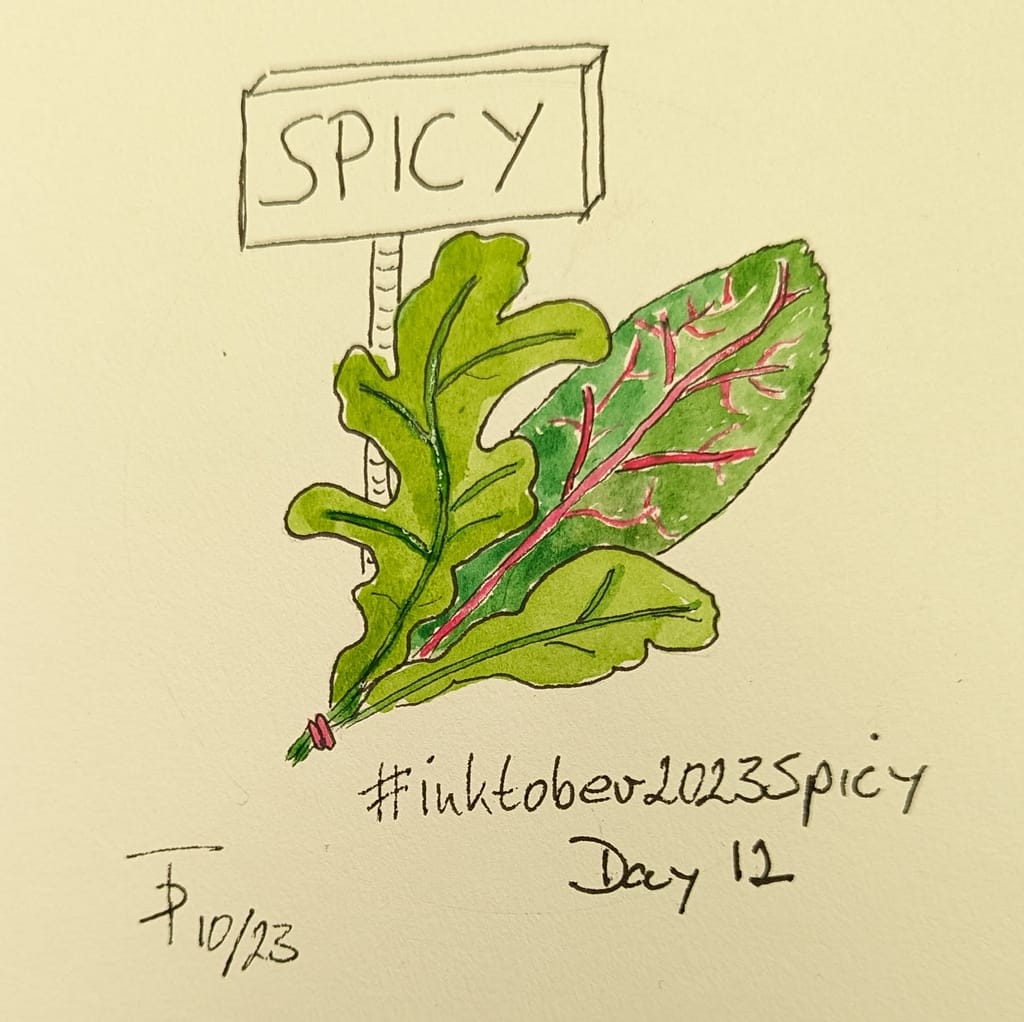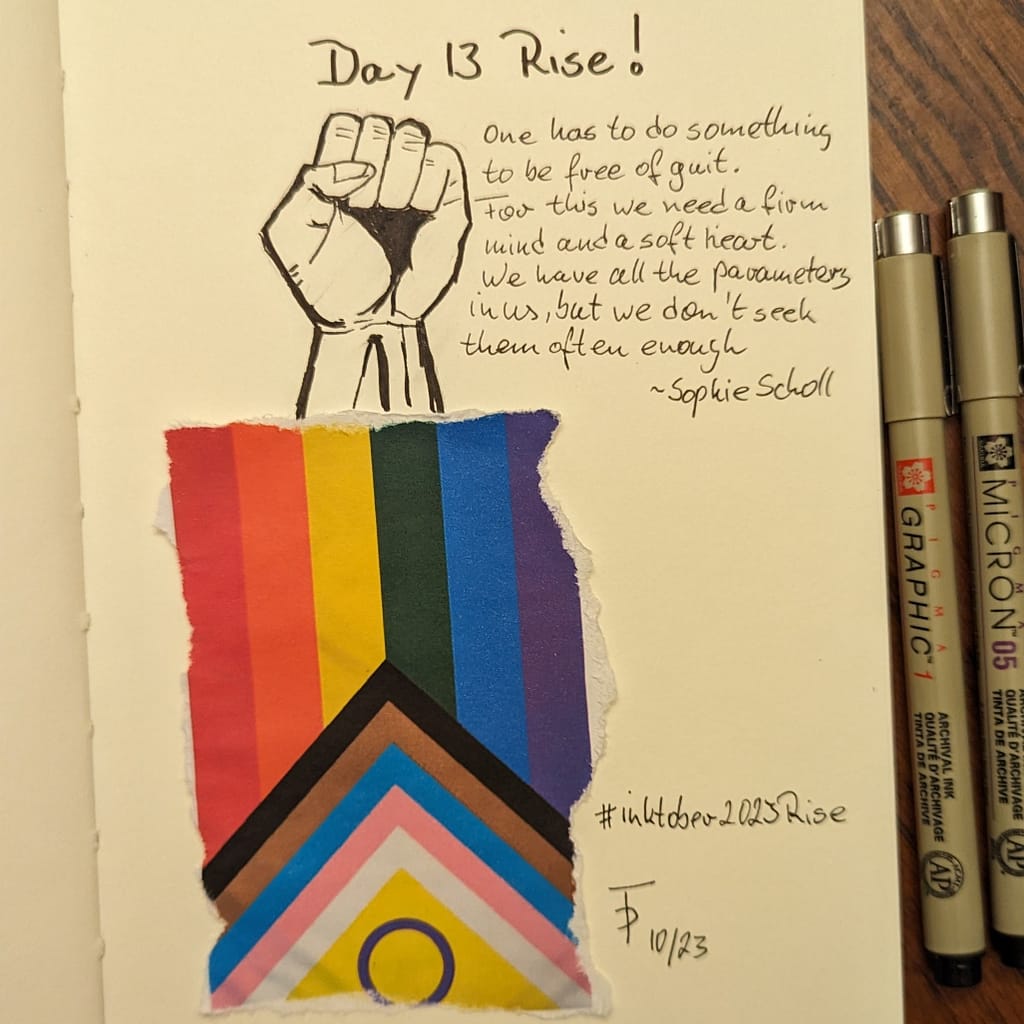 Rise
Day 13
"Man muss etwas machen, um selbst keine Schuld zu haben. Dazu brauchen wir einen harten Geist und ein weiches Herz. Wir haben alle unsere Maßstäbe in uns selbst, nur suchen wir sie zu wenig."
~ Sophie Scholl
One has to do something to be free of guilt. For this, we need a firm mind and a soft heart. We have all the parameters in us, but we don't seek them often enough.
Sophie Scholl was a student activist that fought against the Nazis in Germany and was executed for it.
---
This prompt made me think of the pressure and attacks our 2SLGBTQ+ and especially trans friends have had to endure lately. Not only in the USA but also here in Canada.
It is time to rise up with them and oppose the populist radicals poisoning our societies.
PS: YES! Art is political!
Castle
Day 14
"When we look at the ruins, we always get the same feeling: It's as if the ruin will suddenly come alive and tell its own interesting story!"
~Mehmet Murat ildan
---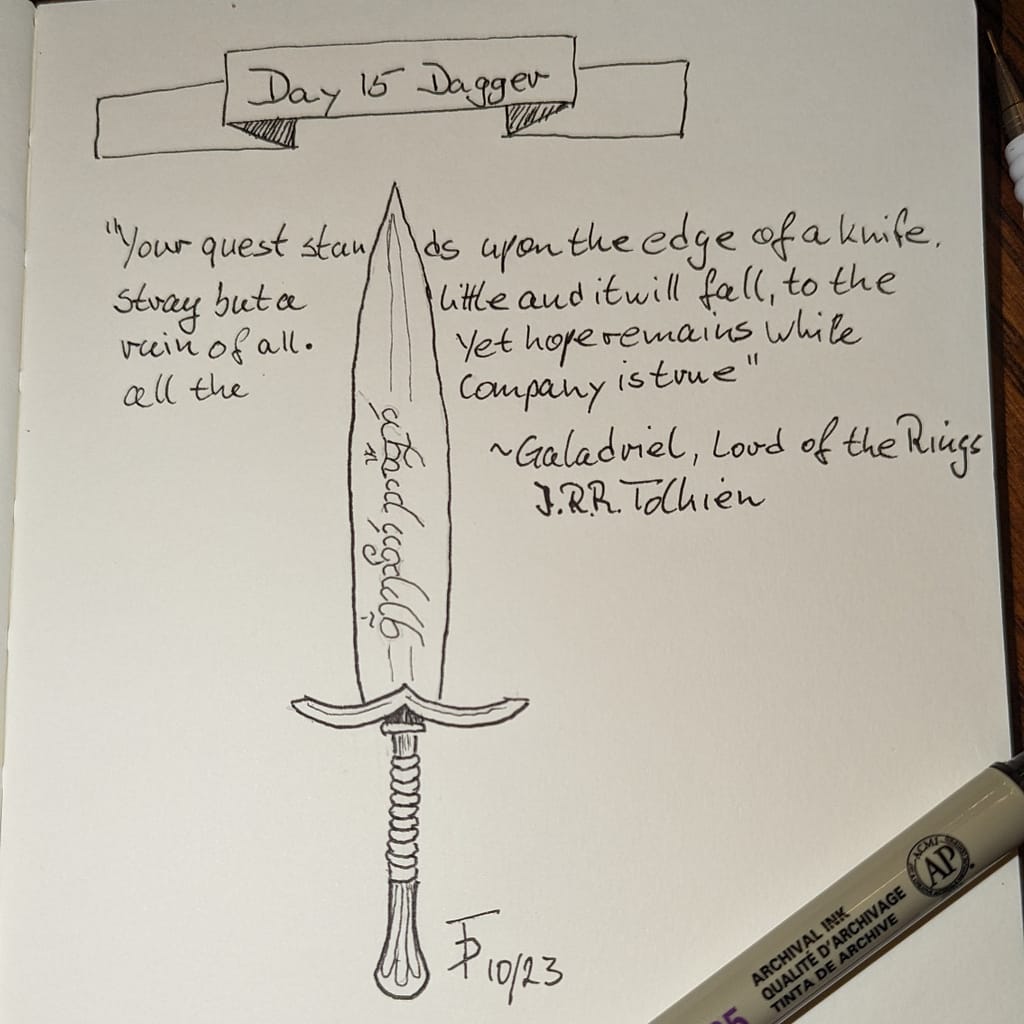 Dagger
Day 15
"Your quest stands upon the edge of a knife. Stray but a little and it will fall, to the ruin of all. Yet hope remains while all the company is true" ~Galadriel, Lord of the Rings, J.R.R Tolkien
---
It was fun finding a website that translates English to elvish. The dagger says "Inktober Dagger" in elvish.
Angel
I was attempting to draw a cookie cutter of an Angel in perspective. I obviously have to practice perspective more but that is what this challenge is all about I think.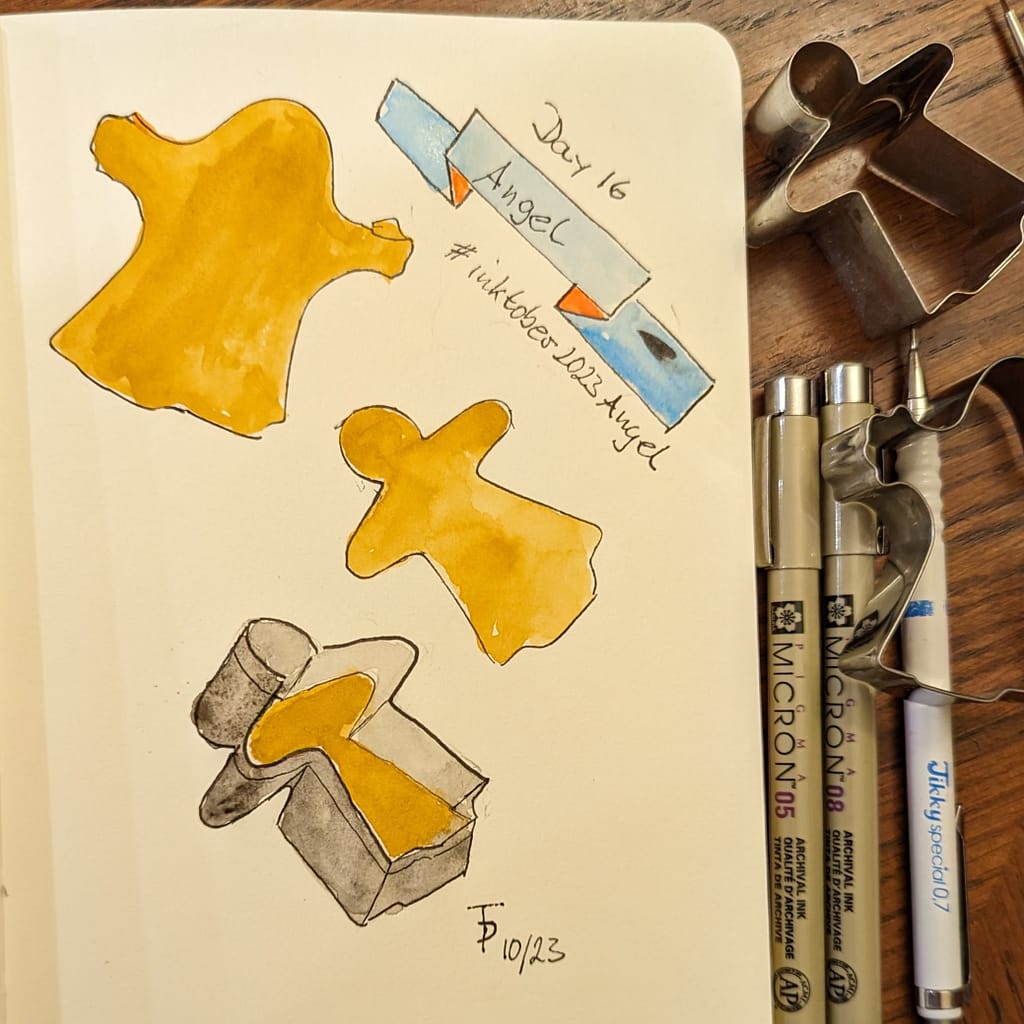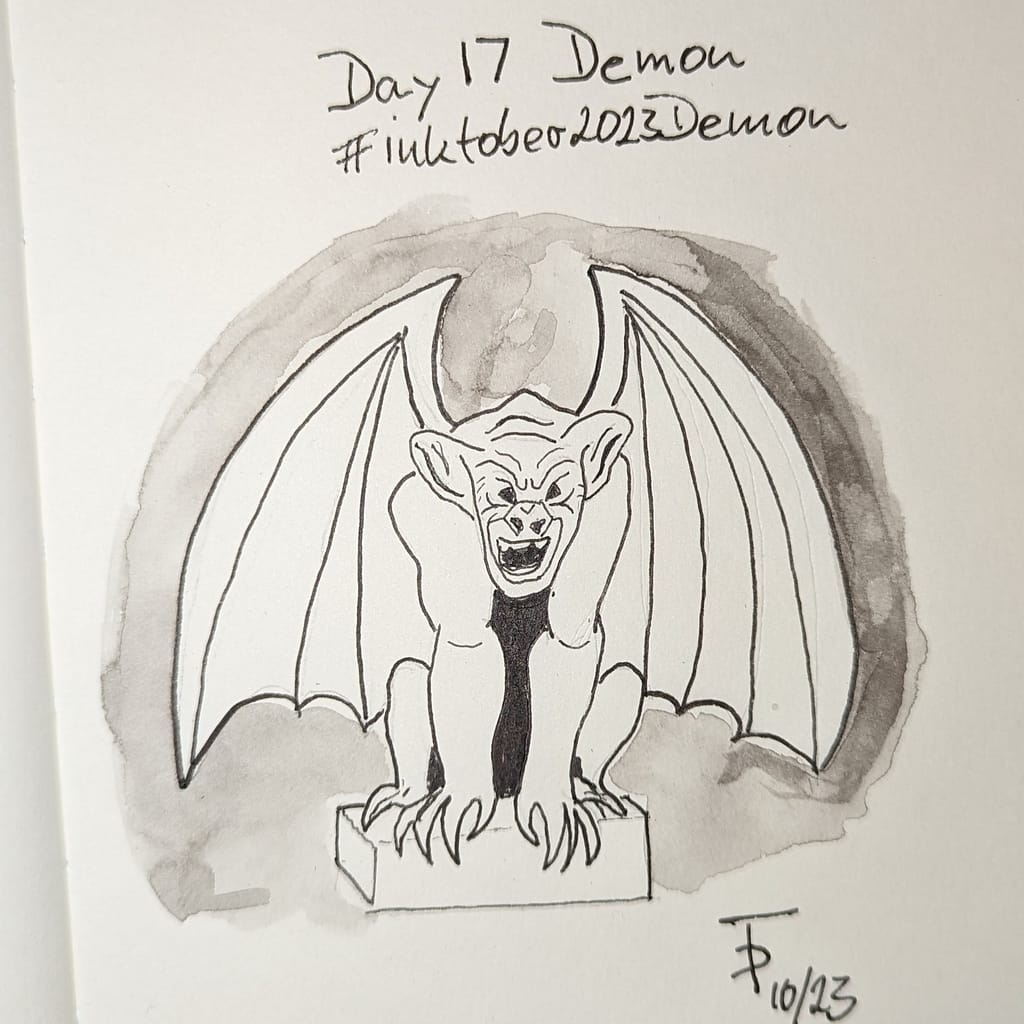 Demon
Even though gargoyles are supposed to ward off demons, I thought it fit the prompt 🙂
Saddle
Day 18
"Learn to be patient, like a camel in the desert.
Rely on your spiritual strength and endurance
to reach your destination."
~ Anoir Ou-chad, The Alien
---
I find camels fascinating – they seem so cool and relaxed 🙂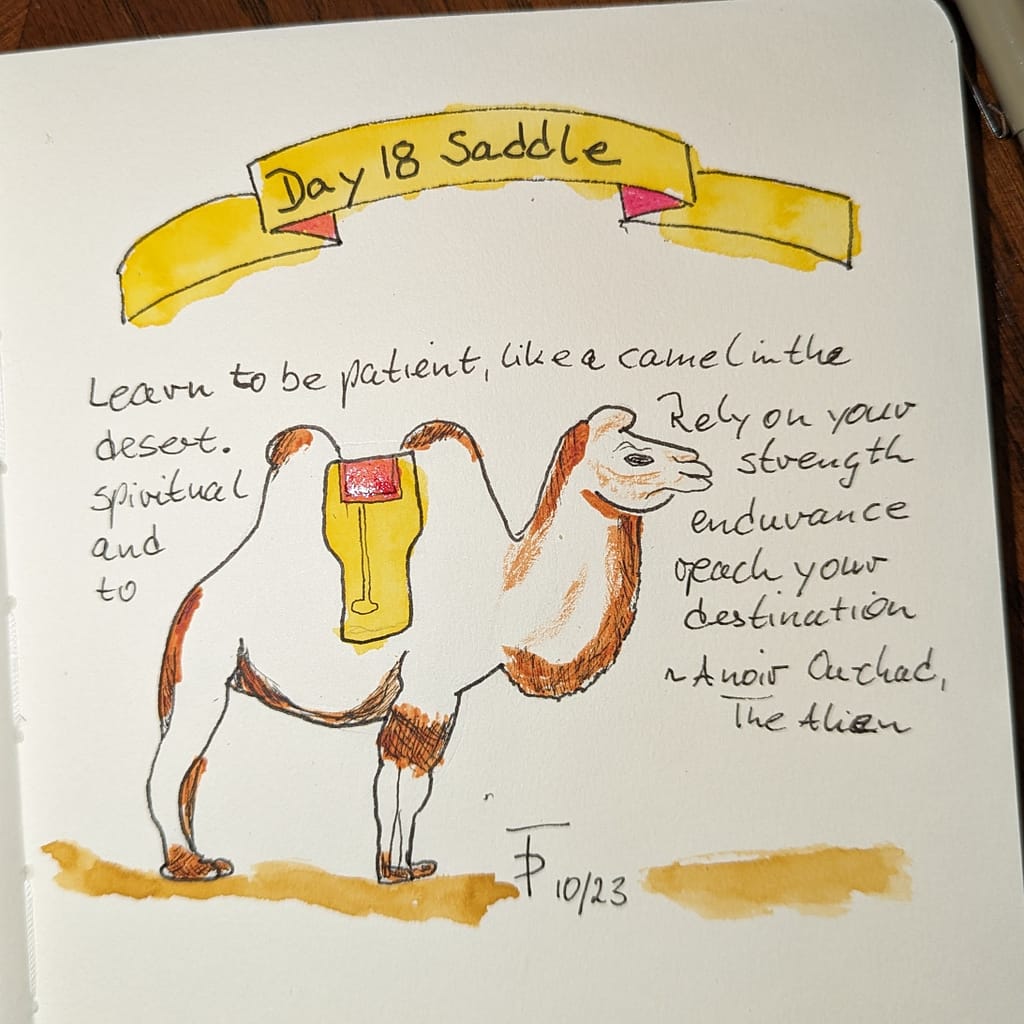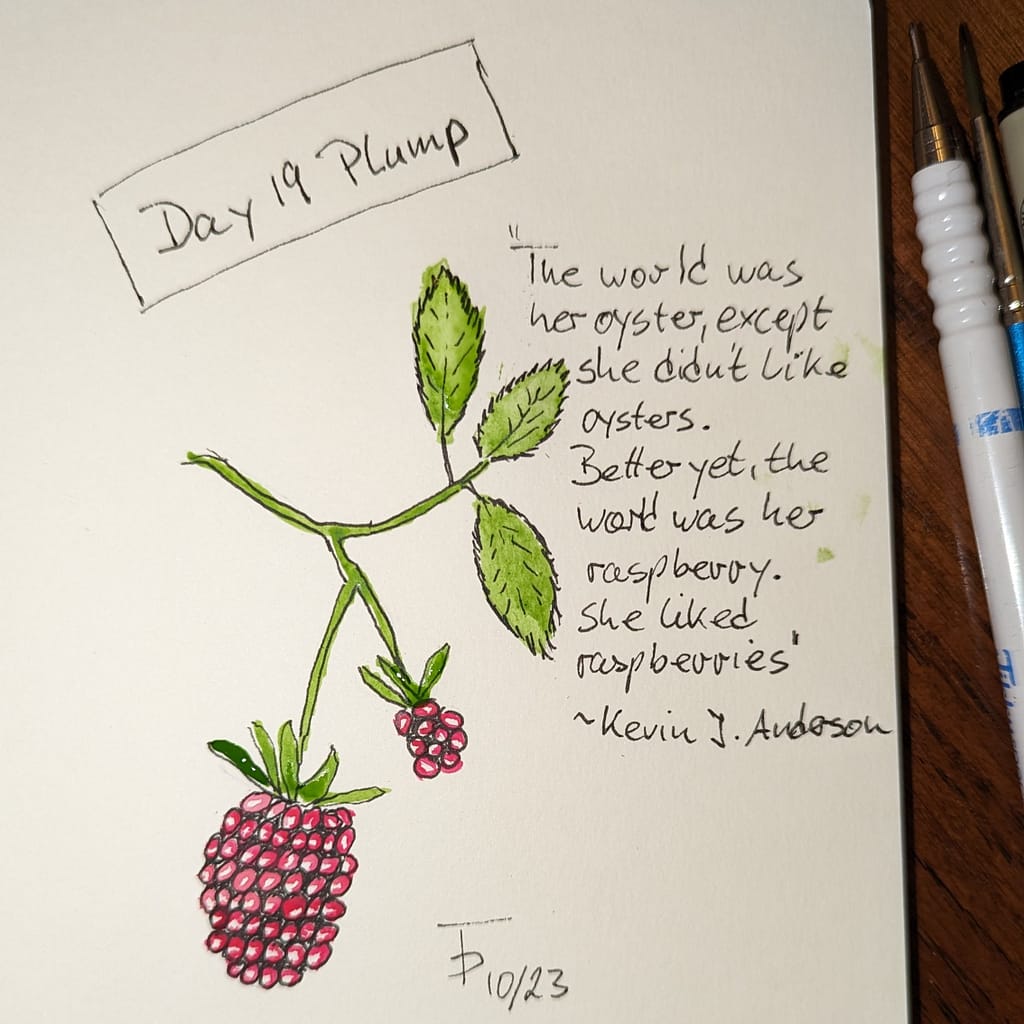 Plump
I couldn't get myself to draw plump people so I thought of our raspberries that turned into a jungle this year and produced lots of #plump #raspberries.
---
Day 19
"The world was her oyster, except she didn't like oysters.
Better yet, the world was her raspberry.
She liked Raspberries."
~ Kevin J. Anderson
Frost
My first Zentangle attempt. The Spiders earlier were kinda Zentangle but I hadn't planned on it.
---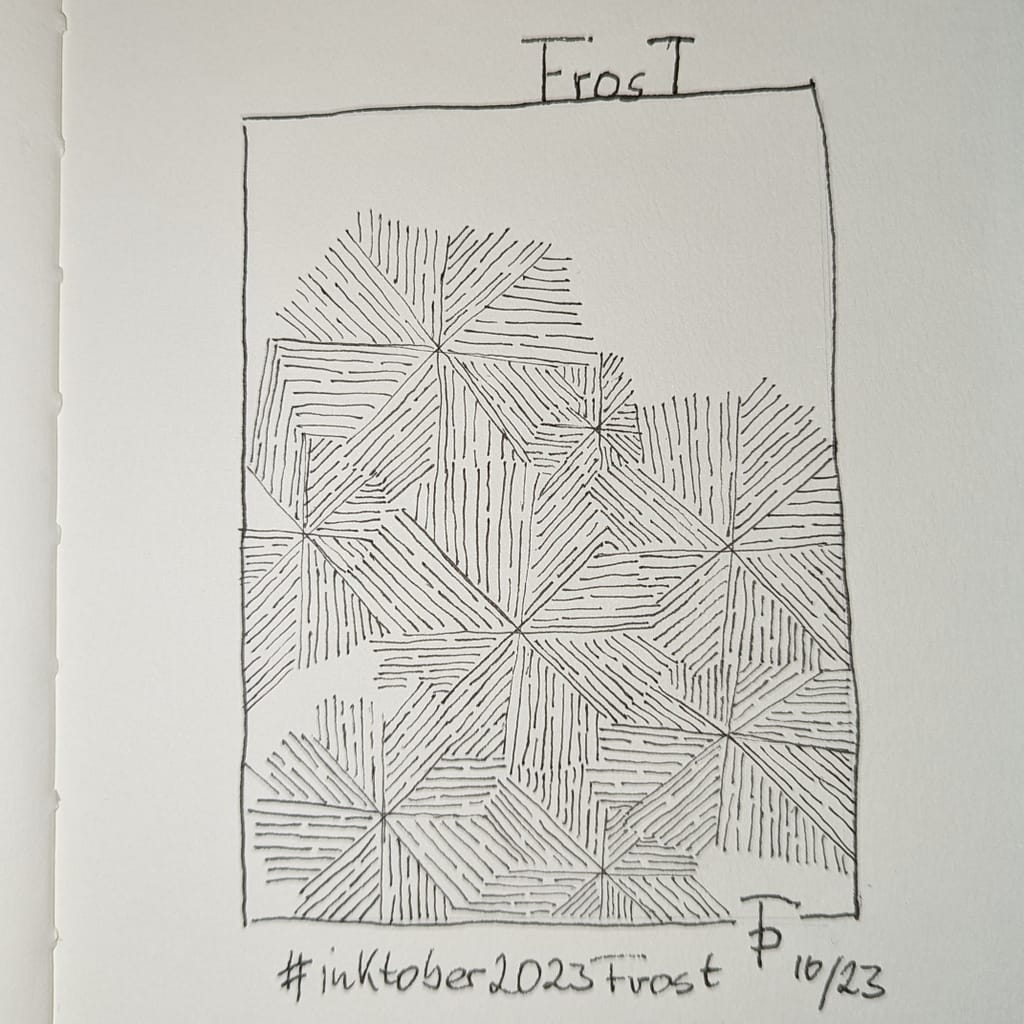 Chains
Well, light chains 🙂
---
"I've learned that you can tell a lot about a person by the way (s)he handles these three things: a rainy day, lost luggage, and tangled Christmas tree lights." ~ Maya Angelou
Scratchy
Had fun pulling paint for this. Inspiration from my favourite tea towel 🙂
---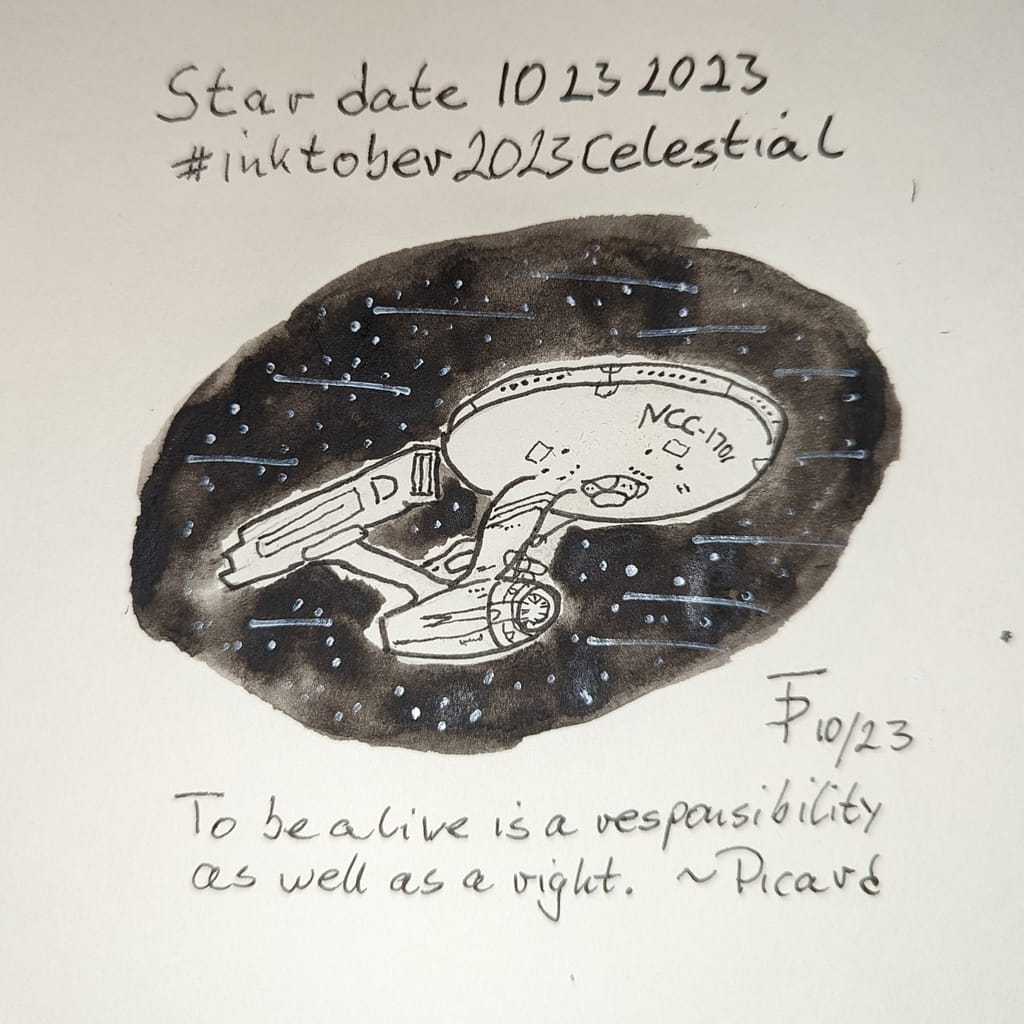 Celestial
To boldly go where no Frithjof has ever gone before is a great way to describe my experience with #inktober.
---
"To be alive is a responsibility as well as a right." ~Picard
Shallow
#inktober2023shallow
---
"Magic birds were dancing in the mystic marsh. The grass swayed with them, and the shallow waters, and the earth fluttered under them. The earth was dancing with the cranes, and the low sun, and the wind and sky." ~ Marjorie Kinnan Rawlings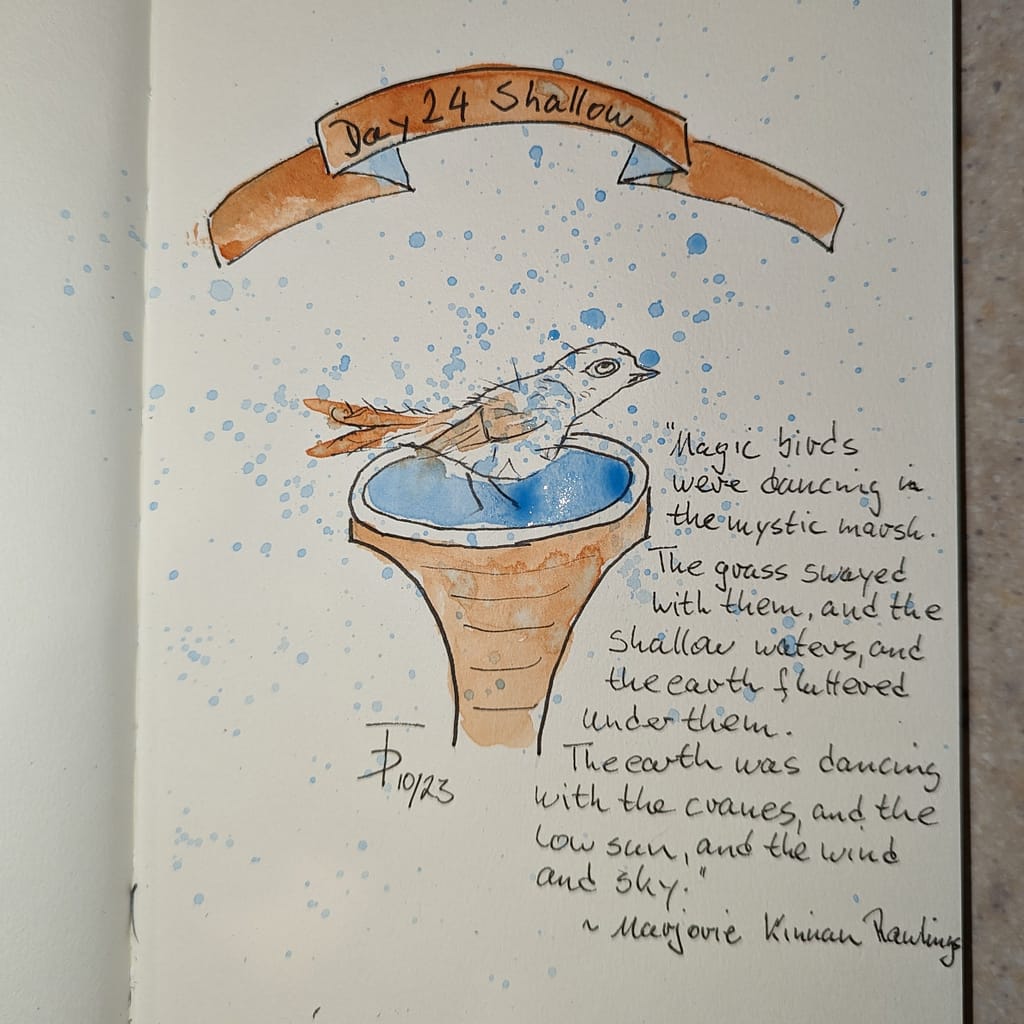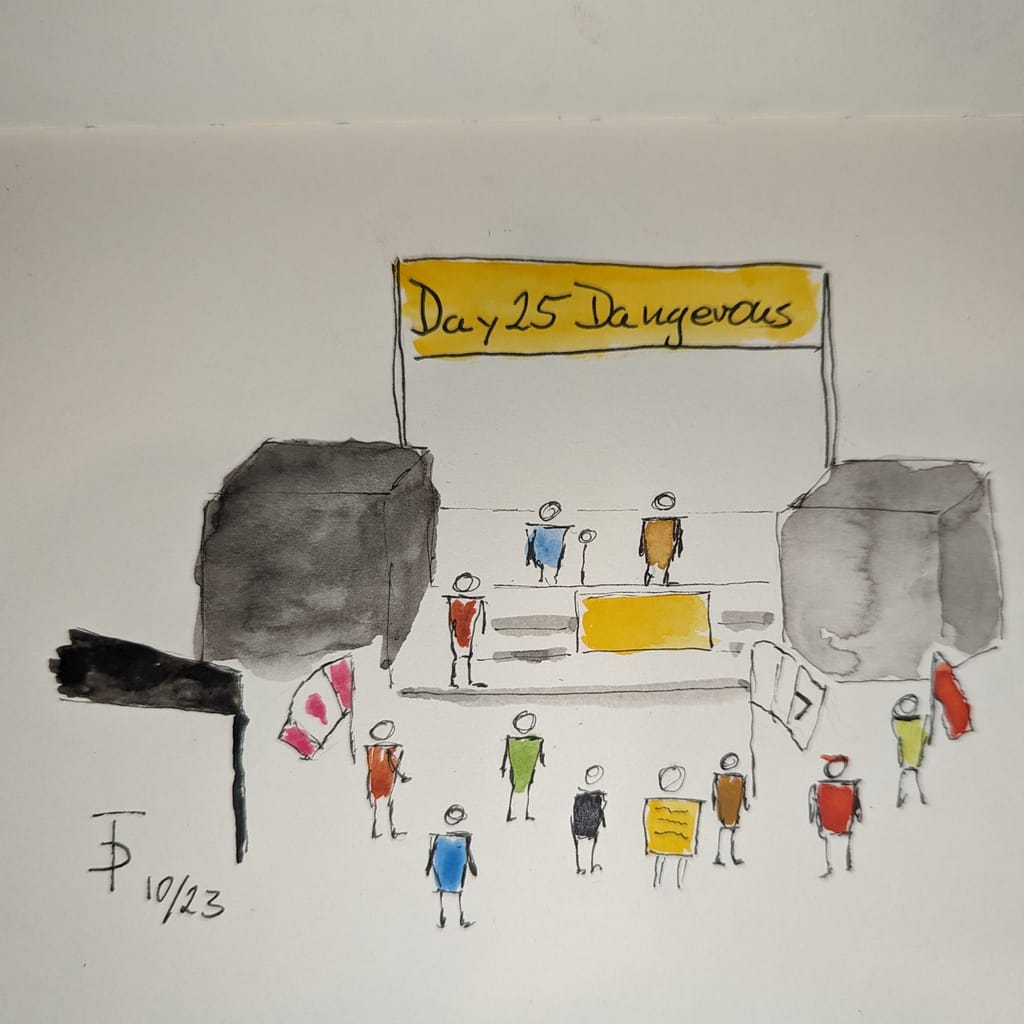 Dangerous
The #inktober prompt today is "Dangerous". A lot of things and people came to mind. Bears, climate emergency, PP, Trump…
Then I started to think more local and thought about David Lindsay and his cult followers who still hold downtown hostage every Saturday. Their rants about Mandates, 5G, against LGBTQ+ people, human rights… We can cringe and shake our heads, but their language and their messages seep into people's minds and politicians' speeches. And that is why they are dangerous.
---
Remove
---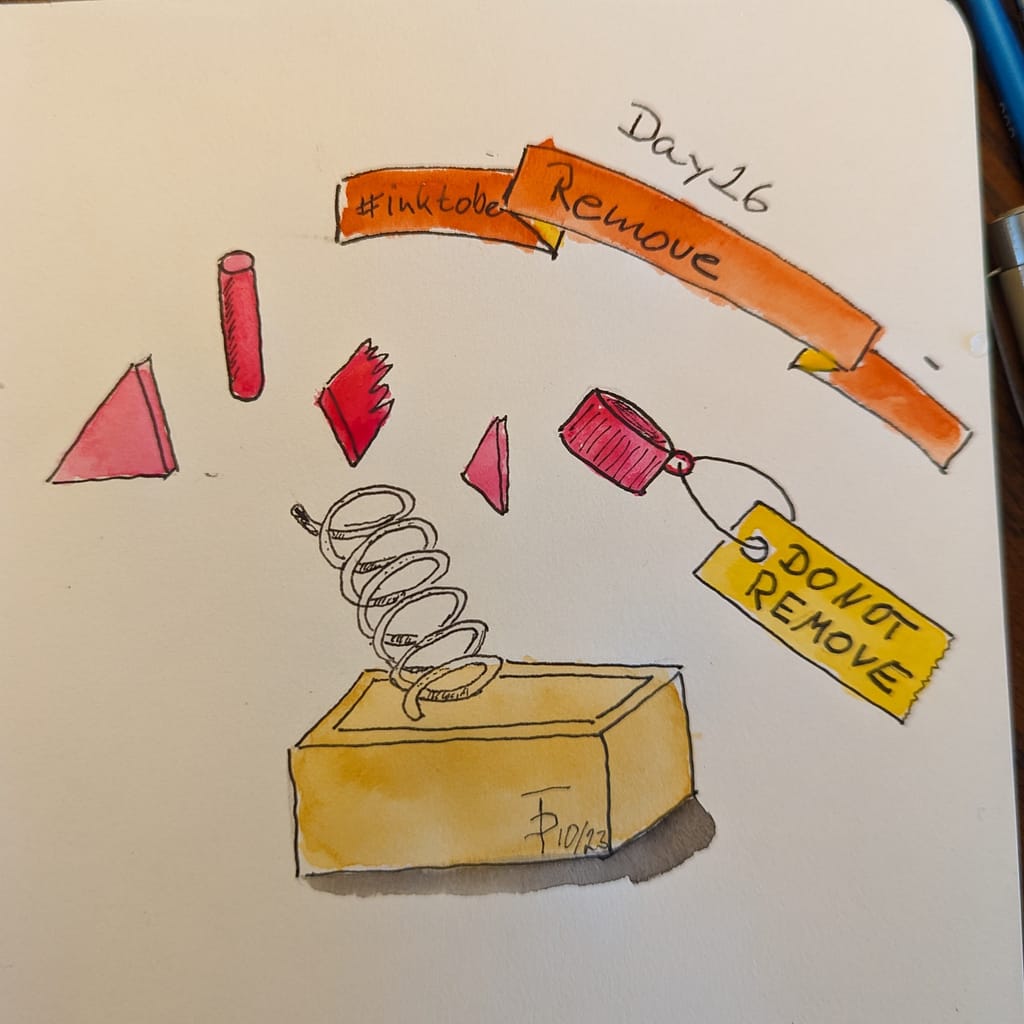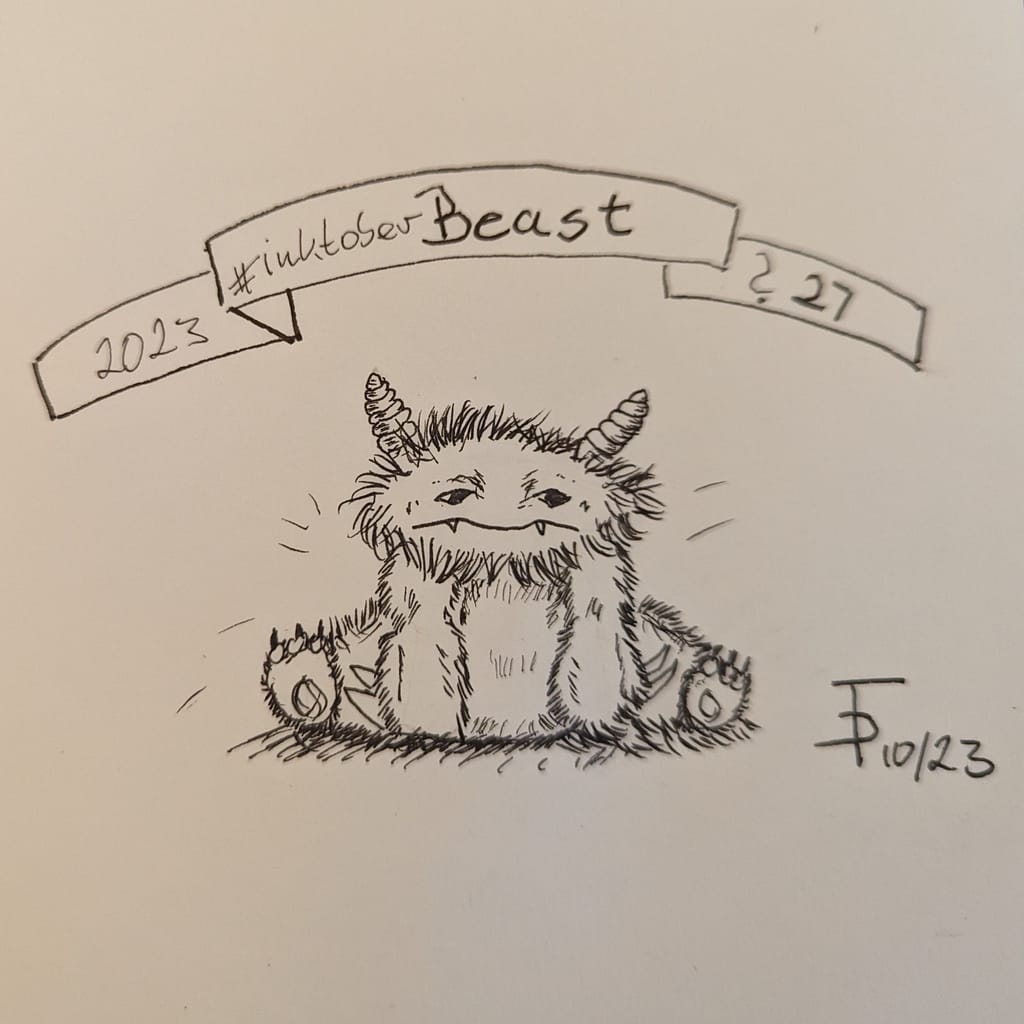 Sparkle
---
"My head was a magpie's nest lined with such bright scraps of information." ~ Alice Munro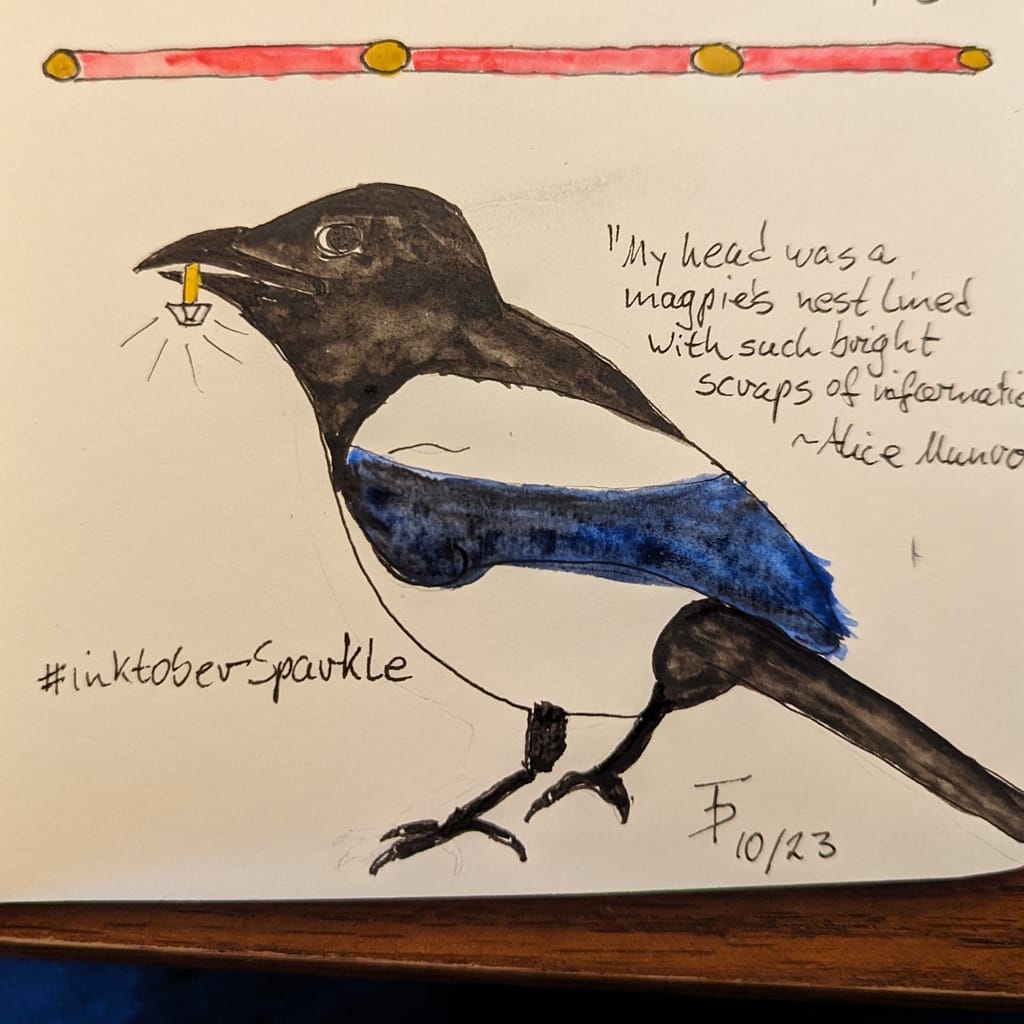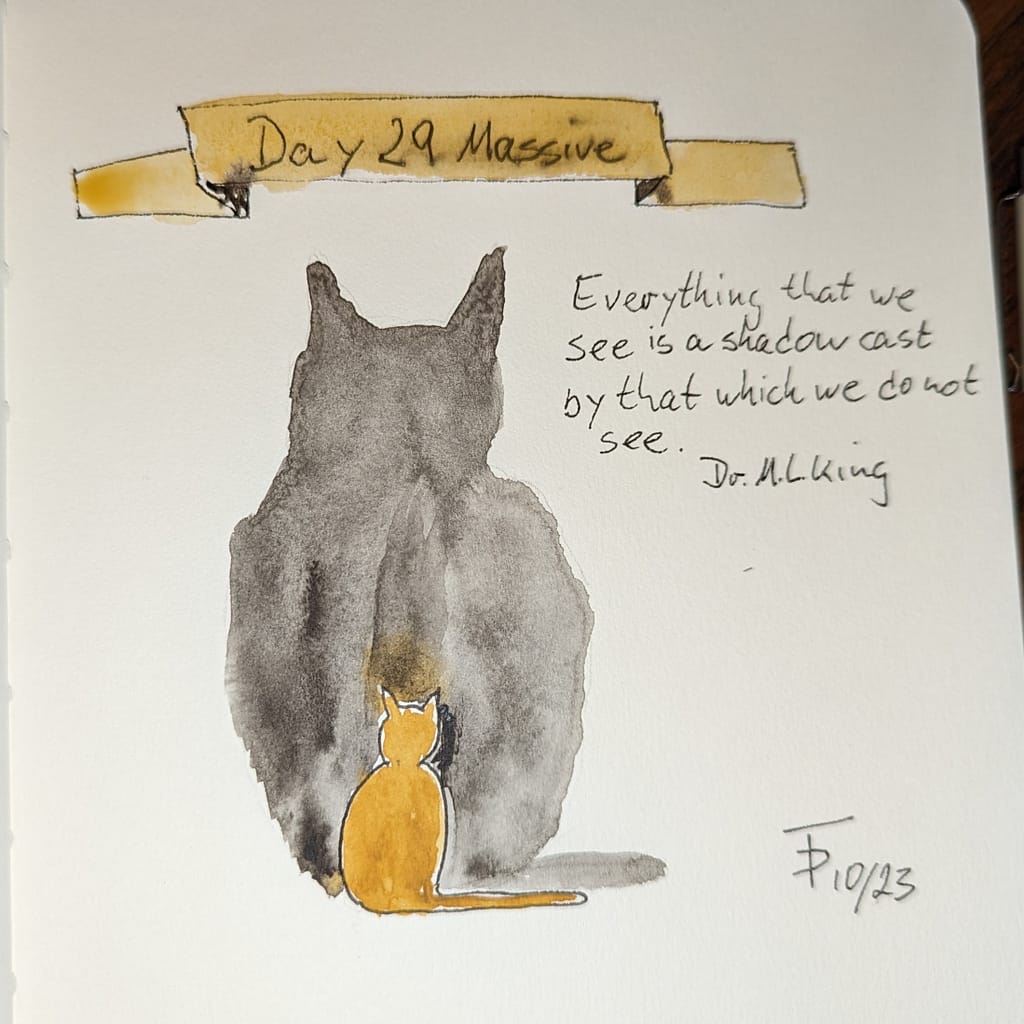 Massive
---
"Everything that we see is a shadow cast by that which we do not see. ~ MLK
Rush
All that Halloween candy is sure to give you a sugar rush 😉
---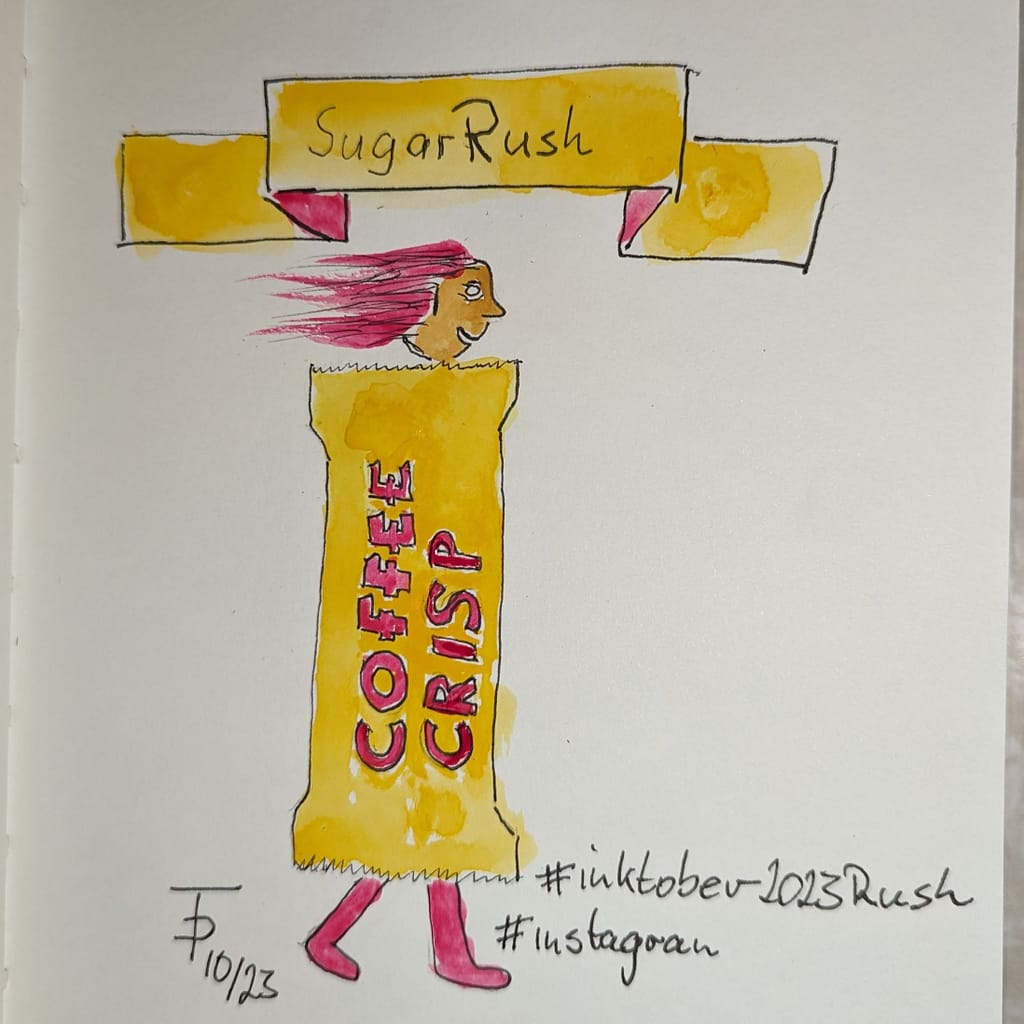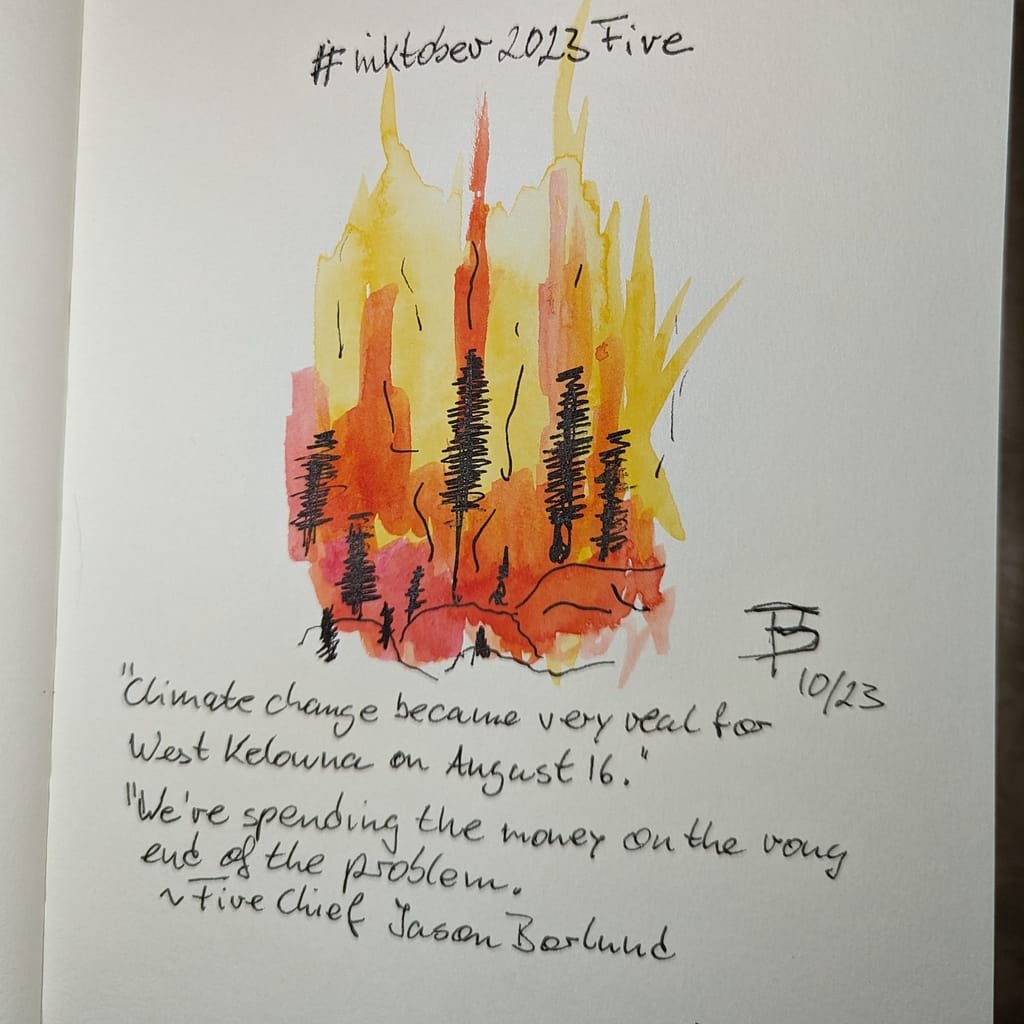 Fire
---
Climate change became very real for West Kelowna on Aug. 16," he said. "Over $20 million was spent reacting to my fire, not to mention the insurance losses which could be triple that." He questioned what could have been accomplished if that money had been spent proactively fighting climate change. "We're spending the money on the wrong end of the problem."
~ Fire Chief Jason Brolund at the UN Climate summit
All of these are on my Instagram feed – check it out!
About the Author
Latest Posts
I am an uninvited guest on the unceeded (stolen) land of the Syilx Okanagan people.
Since I no longer have to worry about reach, clicks and SEO, I can just share what I want. I am passionate about adult education, sourdough and improving my art. But I am known to write about anything I feel like 🙂